The Angel Central Sustainable Market is back and better than ever. Hand-picked based on their sustainable and ethical values, discover six incredible London-based brands all with a unique and diverse spin. From luxury soy candles to vegan goodies that will feed the feminist in you, explore a selection of some of London's best local crafters and makers on Saturday 26th and Sunday 27th February at Angel Central.
Meet The Traders
The Female Glaze
Having worked in the London vegan scene for years, from restaurants to independently-owned coffee shops with a non-profit aim, Franscesca established vegan feminist bakery, The Female Glaze. In Franscesca's experience, feminism and veganism share similar concerns around bodily autonomy, non-violence and the focus on building a supportive and educational communit. The Female Glaze is not only a business that is kind to animals, but it also promotes women's empowerment from a sourcing, production and selling perspective. By providing delicious goodies with a social purpose, The Female Glaze hopes to help more people understand how food choices are political and important.
Michael L Harper Ltd
It all started from countless hours spent sketching cartoon characters. Michael L Harper, now an Integrated Freelance Graphic Designer, studied Graphics from school all the way to university. Having worked for several design agencies, helping to create and drive many iconic brands, Harper realised his true path was as a freelance designer. Collaborating with clients on graphic design, illustration and animation, Harper's work features bold, bright and powerful messaging, with a focus on education products for children. 
The Jerk Kitchen
Run locally by Neil and the family, The Jerk Kitchen have been serving their local community of football fans at the Emirates Stadium for over 10 years. The Jerk Kitchen brings to you the best of the Caribbean's most loved seasoning and recipes, spreading their love for traditional, quality food across London. Their range of Lesley's Sauces will be available at Angel Central, and are guaranteed to bring the flavours of the Caribbean to your kitchen. 
Cee Koko Books
Founded by Christian Kofi Agyapong, Cee Koko Books was created to break down the walls of vision and build strength in unity by helping readers to learn each other's dialects. Agyapong's parents are both Ghanaian, with his father from the Ashanti tribe speaking the Twi dialect, and his mother from the Ga tribe speaking the Ga dialect. Born in London, Agyapong understands both Ghananian dialects however, does not speak them fluently. Cee Koko Books helps readers to teach one another the mother tongue, and encourages families that speak an African dialect at home to teach family members to read, learn and respond confidently in their native dialect. Non-speaking families, or those wanting to learn, are encouraged to start their journey into learning African languages too with Cee Koko Books.
Brûler Luxury Soy Candles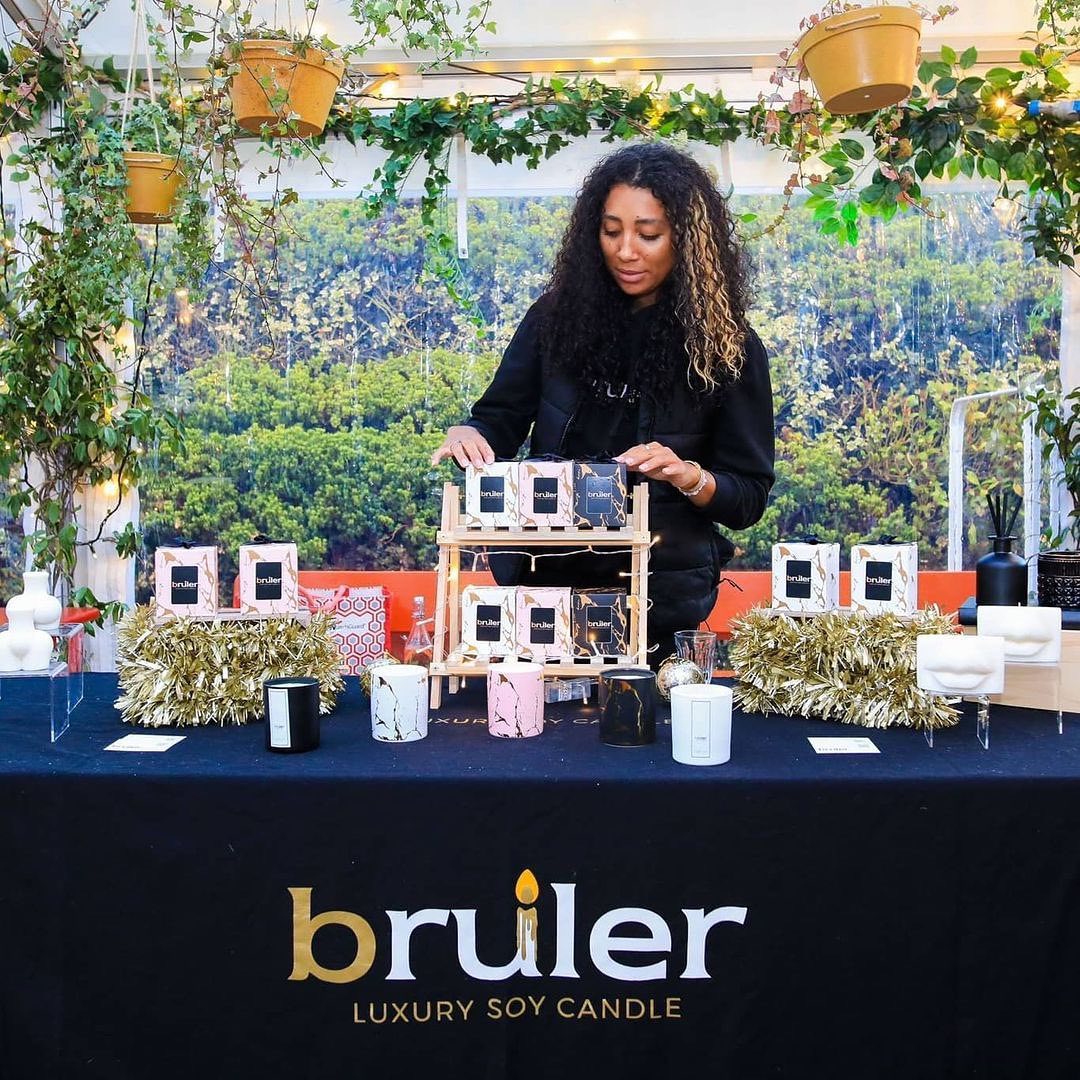 Established in 2020, Brûler offers 100% Soy Wax candles handmade here in London. Being a lover of all things home fragrance, Danielle was tired of spending excessive prices on candles that looked more aesthetically pleasing than their actual functionality. Danielle created Brûler to share beautiful candles to fill a room with fragrance without costing the Earth. 
SGerthDesigns
Looking for a new spring accessory with an edge? You're in luck. Founded by Sabine Gerth, SGerth Designs provides unique handmade leather accessories in simple, graphic shapes. Every item is handmade in Sabine's London studio, with the highest quality Italian and UK leathers sourced from personal suppliers. Sabine's journey began with using off-cut materials however since expanding, her creation process involves purchasing full hides left over from large-scale company productions, ultimately saving the material from landfill. Each piece by SGerth Designs is either unique or created in small batch productions. 
Join us on the 26th and 27th February, 2022 from 11am – 6pm for the Angel Central Sustainable Market.