Here at Angel Central, there has never been a better time to be vegan. So, for all those taking part in this year's Veganuary, we've gone ahead and compiled a list of Angel Central's best vegan offers:
Bella Italia
Bella Italia's vegan menu comprises 26 delicious cruelty-free dishes! You can choose from fresh Italian bruschetta, creamy risotto zucca, rich lentil ragu, hand-stretched pizzas topped with vegan cheese, meat-free meaty substitutes, and fresh and crunchy salads!
Gourmet Burger Kitchen
GBK's 'Jack-in-a-Bun' features a butternut squash and quinoa patty, beetroot mayo, and Korean pulled Jackfruit. Topped with pickled onions and rocket, this vegan-dream is served in a sourdough bun.
Itsu
Itsu's 'No Meat Mondays' is a treat that is tasty enough to be enjoyed from Monday to Sunday. This dish contains beechwood smoked organic tofu with a teriyaki glaze, sushi rice, broccoli, avocado, edamame, pickled red cabbage, mixed leaves, shredded carrot and seeds with a pot of our signature spicy (no peanuts) sesame satay sauce made with soy & tahini with a hint of chilli and lemon.
Pret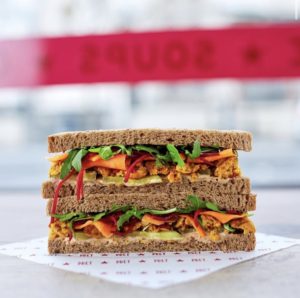 If you fancy something light, go for Pret's 'Smoky Carrot and Falafel' sandwich. Expect sweet potato falafel with smoky carrot ribbons, gherkins, pickled cabbage & carrot, and a layer of sriracha sauce, finished with a handful of rocket and served on our dark rye & caraway bread.
Wagamama
Wagamama's are trialling the 'Vegan Suika Tuna'. 'Suika', which means watermelon in Japanese, is served with miso sesame wok-fried kale, tenderstem broccoli, guacamole and pickled radish… all on a bed of sticky white rice topped with crispy fried shallots, sesame seeds, fresh chilli and lime. This dish is only available in January, so make sure to try it while you can!
Hotel Chocolat
When it comes to Veganuary, don't neglect your sweet tooth! Hotel Chocolat have such an extensive collection of creamy vegan chocolates, it's easy to forget you have forgone dairy.
When trying these dishes, don't forget to post a picture on social media and tag us! @angel_central