Indulge and celebrate at the Angel Central Food Fest. This two week event will bring together a diverse selection of unique food and drink offerings, delicious experiences and exclusive offers, all in one place. Join us in October as we come together in taste, at Angel Central. Follow us on Eventbrite to be notified of all Angel Central events here.
David Atherton
The Great British Bake Off winner, David Atherton, will be just one of the guests joining the incredible lineup of restaurants, retailers and foodie favourites in Islington from Saturday 14th October to Sunday 29th October. David will be hosting two free interactive workshops for kids at Angel Central on Tuesday 24th October and Thursday 26th October from 10am to 11.30am. The award-winning TV personality has a passion for healthy food and making it accessible to all. In David's workshops, attendees will learn to draw and write their own recipes and are invited to sample a range of delicious treats*. Book a ticket here.
*Food intolerances cannot be catered for
Join trailblazing nutritionist, Emily English, for an exclusive gut health Q&A on Saturday 14th October at 11am – 12pm, as part of the Angel Central Food Fest. A qualified BSc Nutritionist from the prestigious Kings College London, Emily has taken the world of food by storm, discovering various ways of eating and living to revolutionise her clients' lifestyles.
Food and Nutrition is more than just what we eat, it's also about how we eat, our environments and our lifestyle. Emily's exclusive talk and Q&A, 'Gut Feelings with Emthenutritionist', will delve into the world of gut health, including the link between the gut, mood, skin and hormones, common misconceptions and myth debunking, plus top tips to improve and support a healthy gut. Book a ticket here.
Emily offers a full 360 approach to health and wellbeing, harnessing state of the art nutrition testing, deep understanding of food and an instinctive touch. Nurturing a love for food through generations of family cooks, Emily's ethos is to marry the science with her passion for the food on our plates.
Join model and fashion icon-turned-mixologist, Portia Freeman, for an exclusive cocktail party on Wednesday 18th October at 6pm – 8pm. During the evening, hosted at Northwood, Portia will be making and serving her exclusive 'Food Fest Cocktail', as well as talking about her recipes and happy hour.
Portia started her hugely successful 'Portia's Happy Hour' series on IGTV where she creates a cocktail for followers to make at home. Guests on the series have included Jamie Oliver, Poppy and Cara Delevingne, Fearne Cotton, Daisy Lowe, Vick Hope and Sophie Ellis-Bextor. Portia has also created cocktails for a range of prestigious events, such as London Fashion Week parties, and now the Angel Central Food Fest. Book a ticket here.
Sustainable Market
Come and visit the Angel Central Sustainable Market in October on Saturday 14th – Sunday 15th and Saturday 28th – Sunday 29th, as part of our Food Fest. The Sustainable Market features a selection of London-based ethical and sustainable businesses, crafters and makers, all with their unique sustainable spin.
Fresko
Throughout the Angel Central Food Fest, Fresko will be joining us in the Piazza for sampling experiences from 10am – 6pm. Fresko was born in Athens in 2011, with their first London store opening in May 2022 in the buzzing streets of Covent Garden. Fresko's delicious, authentic Greek yoghurt can be enjoyed in endless topping combinations, from traditional spoon sweets to organic honeys, crunchy nuts and fresh fruits. 
Whether it's for a tasty bite for breakfast, a healthy afternoon pick-me-up or a sophisticated evening treat – you can step into Fresko and step out with a smile on your face and a serving of paradise in your hands.
Sampling Dates
Sunday 15th October

Thursday 19th October

Saturday 21st October 

Thursday 26th October 
Oakberry
Oakberry are on a journey to make açaí known and appreciated all over the globe. Oakberry's organic açaí bowls with unlimited toppings are now part of the healthy lifestyle of millions of people in many countries, becoming even more present amongst health-conscious individuals. Fancy giving these açaí bowls a try? Oakberry will be offering sampling experiences in the Angel Central Piazza throughout October, plus providing two unique açaí bowl crafting workshops on 22nd and 28th October.
Sampling & Workshop Dates
Sampling in the Piazza – Tuesday 17th October 10am-6pm, Sunday 22nd and Saturday 28th October 1pm-3pm

Açaí bowl making workshop – Sunday 22nd and Saturday 28th October 10am- 1pm 
ManiLife
On Tuesday 24th October from 12pm – 3pm, ManiLife will be providing peanut butter sampling experiences in the Angel Central Piazza. ManiLife's incredible peanut butter is made from the finest whole peanuts sourced from a single estate in Argentina. The peanuts are then roasted and blended in small batches for unparalleled creaminess. ManiLife use no palm oil and their ingredients are all 100% natural. Fancy giving them a try? Head down to Angel Central during our Food Fest and experience the magic for yourself!
Simply Roasted
Whether you're a crisp connoisseur, seasoned snacker or just curious about upping your crunch, Simply Roasted have just what you need. A new brand with big ideas, Simply Roasted's award-winning roasted potato crisps have 50% less fat than your average fried crisp. Fancy a tasty sample? Stop by Angel Central on Wednesday 25th October from 1 – 4pm to indulge in Simply Roasted. 
DIRTEA
DIRTEA was founded in 2021 by the Mushroom Brothers, Simon and Andrew Salter, who set out to bring mushrooms to the masses and spread the incredible benefits of fungi. DIRTEA provides the purest and most potent adaptogenic mushroom powders and super blends on the market which can elevate focus, energy, sleep, immunity and joy! With products stocked in Selfridges, Holland and Barrett, Soho House, Planet Organic, Daylesford and Oliver Bonas, DIRTEA sits between the intersection of wellness and lifestyle. 
DIRTEA will be offering a sampling experience in the Angel Central Piazza and an exclusive Mushroom Masterclass with DIRTEA's co-founder, Simon Salter on Friday 27th October.
Barnacle Brothers
Based on the Isle of Wight, Barnacle Brothers Botanical Rum is distilled with hand foraged botanicals harvested by its co-founders along the Isle of Wight's coastline, as well as two species of organic seaweed. Barnacle Brothers will be giving away tasters, making cocktails, and serving their rum with a range of premium mixers on Sunday 29th October from 12pm – 6pm.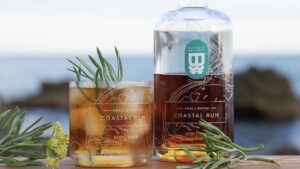 Free Kids Workshops With Little Angel Theatre
Celebrate the Food Fest at Angel Central this October half-term with Little Angel Theatre. Join the team on the 27th, 28th and 29th where they will be bringing some fantastic food-themed craft workshops and sensory storytelling sessions to Angel Central. When released, you can book tickets via the Angel Central Eventbrite and find out more information here. 
Offers & Promotions
Throughout the Angel Central Food Fest, there will also be a range of exciting restaurant offers and unique promotions.
The Spice Is Nice Burger Challenge at Birdies
How hot can you go? Birdies is challenging visitors to embark on 'The Spice is Nice Burger Challenge'. From Tuesdays to Thursdays throughout October, you can enjoy three cheeseburger sliders, each slathered in three different levels of Cheeky Burger house hot chilli sauce for £12. If you manage to eat all three within 10 minutes, you will receive a free drink!*
 *Terms and Conditions apply, see in-store for detail.
Wagamama New Autumn Menu
Try Wagamama's new autumn menu in the Angel Central Piazza on Tuesday 24th October from 12pm – 2pm. Enjoy nourishing, soul warming bowls of rejuvenating flavours, balanced with energising noodles, crunchy veggies and flavour packed proteins.