How sustainable is your beauty routine and your wardrobe? Now more than ever we're all trying to make more conscious choices when shopping for new clothes, stocking our bathroom cabinets and filling our makeup bags, but making sustainable choices can be hard especially when you don't know where to look. Despite the common consensus that sustainable items cost more, we are here to show you that more ethical shopping can be done affordably. Here are some simple swaps you can make today to make sure we can all have a better tomorrow.
Since 2012, The Humble Co. has been leading a small revolution in personal care products – from design and manufacture to humbleness. They translate evidence-based innovations into eco-friendly products that are beneficial for everyone, including underprivileged people living in remote communities. Their 100% sustainable and biodegradable bamboo cotton swabs have naturally coloured cotton tips, are FSC, Nature and Vegan certified plus every Humble purchase goes towards funding projects for the benefit of children in need. 
Shop the Humble Bamboo Cotton Swabs from Holland & Barrett here
2. Ethique was founded in New Zealand in 2012 and is on a mission to rid the world of plastic waste. It's also a certified sustainable business that is proud to be carbon neutral, plastic-free, vegan, palm oil and cruelty-free. Their Pinkalicious shampoo bar is formulated with sweet and tangy pink grapefruit warming vanilla and it's perfect for normal hair types. Just smooth the bar over wet hair from root to tip 3-4 times, rub in and rinse.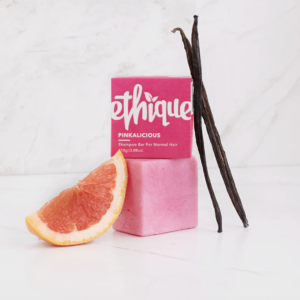 Shop Ethique Pinkalicious Shampoo Bar For Normal Hair from Holland & Barrett here
3. MUJI was founded in 1980 and manufactures from three perspectives: "Selection of Materials", "Review of Processes" and "Simplification of Packaging". They choose materials that take into account the global environment and producers, and eliminate waste in all processes. All of their products are clean and simple, made with quality and the basic necessities of life in mind. Products are produced without frills, excess packaging and damaging dye.
Shop the Home & Living range from Muji here
4. According to the New Standard Institute, fashion is responsible for between 4% and 10% of global carbon emissions, with 150 billion new garments made each year. Important steps towards the reduction of fashion's footprint on our environment include the reduction of fashion purchases, increased longevity of the items consumers buy and having an understanding of what happens to items of clothing at the end of their life. That's why H&M came up with their Conscious collection which means the products in this range contain a minimum of 50% of sustainable materials including organic cotton and recycled polyester.
Shop the Conscious – Sustainable Style collection here
5. Rituals develop and evaluate their products based on three pillars; clean, conscious and caring. That means all of their products are clearly formulated, dermatologically tested, consciously selected and developed to inspire their customers to live mindfully. "Rituals don't just set high standards for their products but also for their processes. From the natural hand & lip care collection and eco-friendly refills to supporting women in Mumbai: their innovation team is working non-stop to pave the way for a more sustainable world," says Rituals Director of Innovation and Sustainability Niki Schilling.
Shop The Ritual of Jing from Rituals here
Next read about the 5 Easy Ways To Recreate Luxury Spa At Home